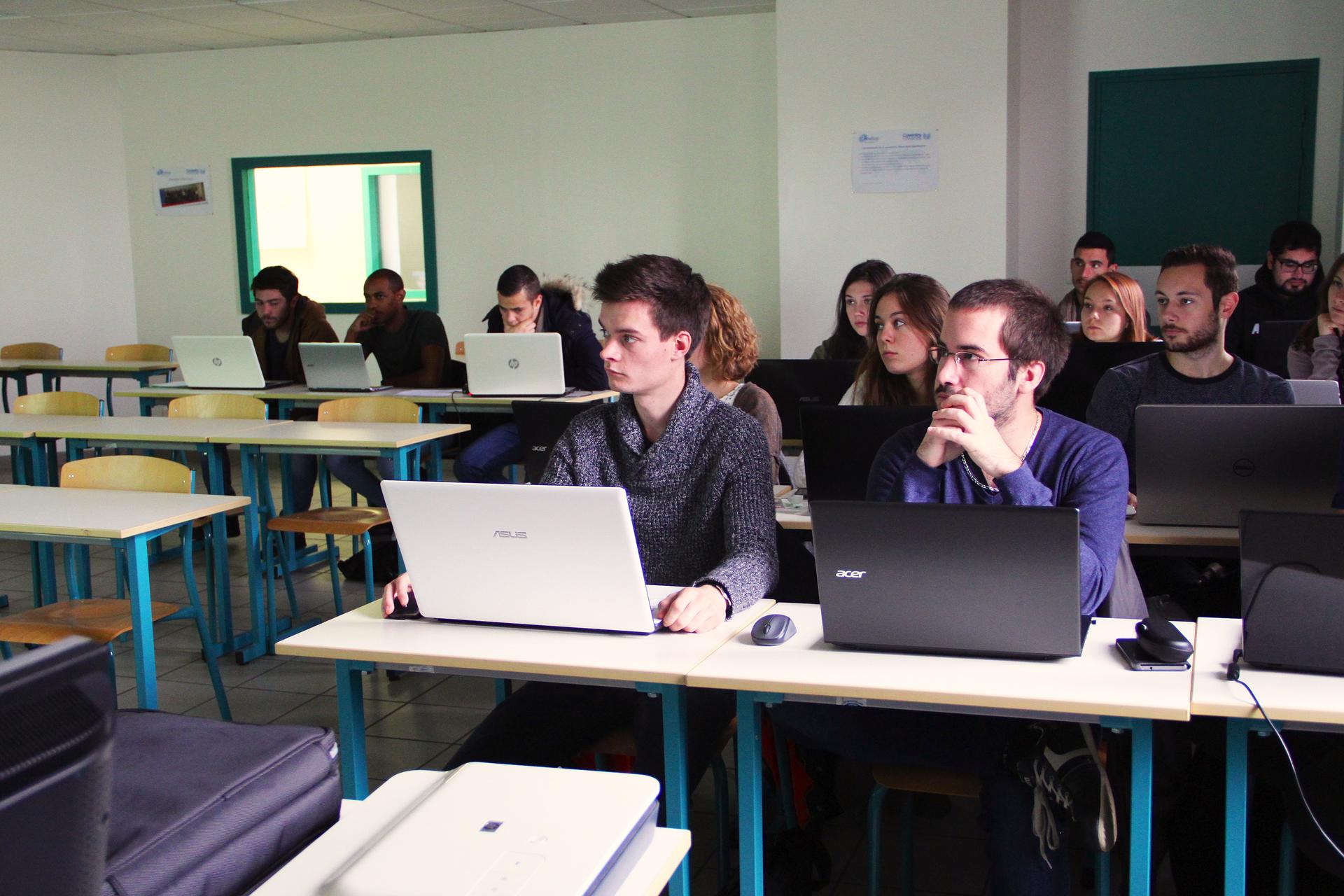 Présentation
Cette formation a pour objectif de donner aux étudiant(e)s les moyens de comprendre les défis du commerce international dans les domaines de la gestion d'entreprise, de la finance, du marketing et des ressources humaines, et d'appréhender les questions stratégiques auxquelles doivent faire fasse les groupes internationaux.
This course is designed to give students the tools to understand and adapt to international business trends and challenges, along with answering strategic business questions that international corporations must face, in areas such as operations strategy, investment analysis, global marketing and human resource management.
Compétences requises
Autonomie (being autonomous)
Dynamisme (being dynamic)
qualités d'écoute et de communication (being a good comunicator and listener)
ouverture d'esprit (being open-minded)
curiosité intellectuelle (being intellectually curious)
Créativité (being creative)
capacité d'analyse et de synthèse (capable of analysis and synthesis)
prise de décision et leadership (making decisions and demonstrating leadership)
goût pour les langues (being interested in languages)
score TOEIC >=650
Formation
Compétences dévelopées pendant la formation
Autonomie (being autonomous)
qualités d'écoute et de communication (being a good communicator and listener)
Travail et organisation d'équipes, leadership (teamwork and leadership skills)
capacité de recherche, d'analyse et de synthèse des informations (research, analysis and synthesis skills)
connaissances linguistiques approfondies (increased language skills and knowledge)
Points forts de la formation
En choisissant le Bachelor of Coventry, l'étudiant(e) bénéficie (By choosing the Bachelor, the student will obtain and benefit from) :
d'un Bachelor délivré par l'état britannique et reconnu dans toute l'Europe
(a British university Bachelor degree recognised across the European Union)
d'un enseignement dispensé par des anglophones en lien avec le monde professionnel
(Courses taught entirely in English by anglophone professors with links to the business world)
des ressources pédagogiques de Coventry University via moodle
(teaching resources from Coventry University via moodle)
d'un enseignement en groupe de taille humaine pour permettre un accompagnement dans les projets personnels et professionnels
(teaching in small groups and high levels of help and advice for personnal and professional projects)
d'une pédagogie dynamique et innovante basée sur des études de cas et un système de « coaching »
(a dynamic "coaching" teaching methodology)
d'un diplôme délivré par (a degree delivered by) Coventry University, « the UK best modern University 2014 », « University of the year 2015 », « The Guardian University Awards 2016 »
d'un accompagnement via un tutorat personnalisé
(personalised tutorage if necessary)
100% des UE (Unités d'Enseignement) sont dispensées en anglais
(all courses taught in English)
d'une participation à la « Graduation Ceremony » à Coventry
(a participation at the graduation ceremony at Coventry university)
Type entreprise accueil :
PMI en import-export, développement à l'international
(SMEs and startups focused on trade and exports, international company development)

Grandes entreprises (Large corporations) : Boeing, Bouygues, Ford, Audi, Aston Martin...
Mission(s) en entreprise :
Assistant Manager, Manager
Production Manager
Brand Director
Logistics Manager
Human Resource Manager
Investment Analyst
Financial Consultant
Exemple de projets/d'actions :
The Development of a New Niche Market: A case study on E-sports in France
The E-Commerce Integration of Physical Stores in the Pays de Loire
Market Review : The Success of the Online Second Hand Market in France
The Future of Sensory Marketing in the French retal industry
A Business Review of the French electric car market
The Impact of Social Media in the Fashion Industry
New Marketing Strategy : How the Swiss watchmaking industry should respond to the growing smartwatch segment
A Marketing Review for Organic Cosmetic products in France
Seizing Opportunities in the Growing Parenthood Market in the Nantes Area
Durée de la formation
En classe :
1 an
Poursuites d'études / débouchés
Poursuites d'études :
Ce diplôme, reconnu dans l'espace européen d'enseignement supérieur (180 ECTS), permet l'accès aux Masters en France, en Grande-Bretagne et dans le monde.
Master Audit
Master Finance
Master des grandes écoles de commerce
Exemple de métiers :
​Insertion dans les entreprises à fort potentiel international, dans les fonctions comptabilité-finance internationale.
Inscrivez-vous
Sur étude du dossier pour des étudiants titulaires de 120 crédits ECTS obtenus en : BTS, BTS A, DUT, CPGE, Licence 2 et ayant une bonne maîtrise de l'anglais (TOEIC >= 650, test Coventry ou 13/20 à l'épreuve d'anglais de votre examen bac +2).
Le dossier d'inscription est à télécharger à partir du lien ci-dessous et à retourner au secrétariat du Département Enseignement Supérieur.
Les dossiers sont étudiés au fur et à mesure de leur arrivée.
En vidéo
Fiche technique
Filière : Tertiaire
Sous-filière :

Commerce-vente
Comptabilité et gestion

Bachelor Global Business (BACHELOR GB)
Durée de formation : 1 an
Type de diplôme : Bachelor
Niveau d'admission :

BAC + 2, 120 ECTS

Niveau de sortie : BAC +3, Certification de niveau II, 180 ECTS
MODE D'ENSEIGNEMENT
Formation initiale